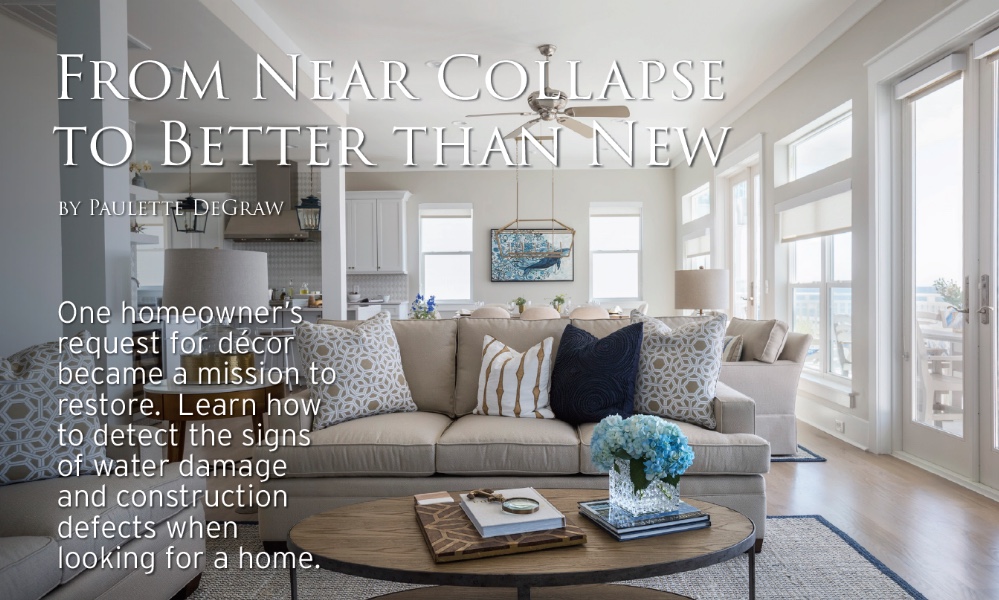 Coastal Luxury Magazine Feature
From Near Collapse to Better than New
by Paulette Degraw
One homeowner's request for décor became a mission to restore. Learn how to detect the signs of water damage and construction defects when looking for a home.
Just over a year ago, 30A Design Group visited a picturesque home on Grayton Beach. The request seemed simple enough, a quick re-grouting and caulk job for rejuvenation. However, we quickly discovered that the house had excessive water damage. From that point on, the project became the antithesis of simple.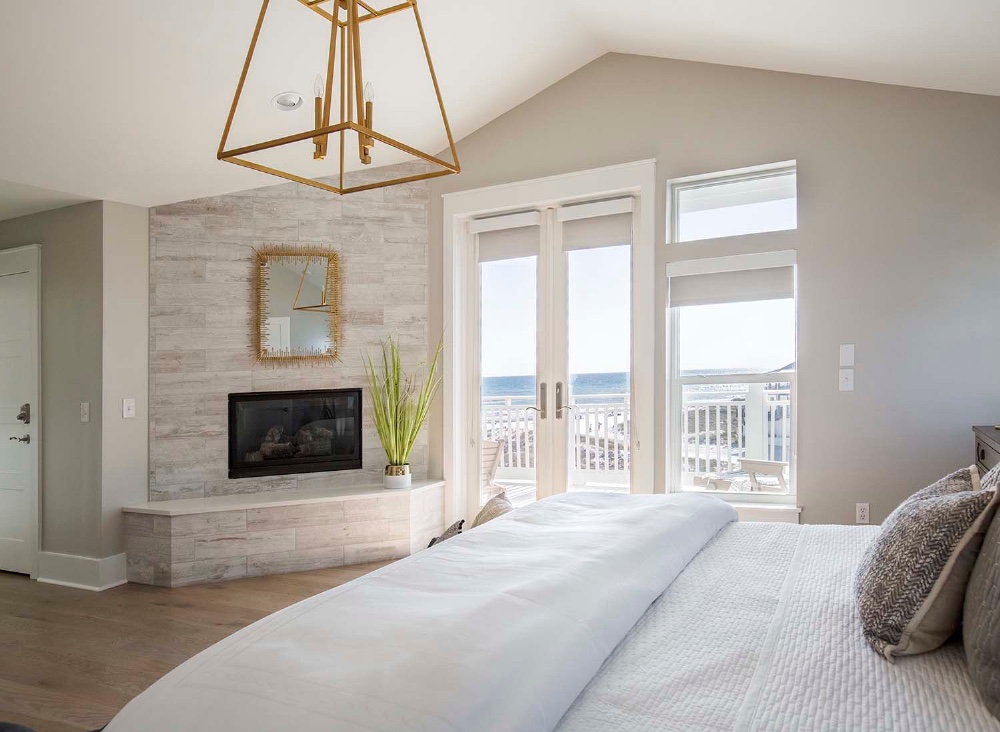 Our team affectionately refers to this home as the "Grayton House" and it has become an emblem of the triumphs and tribulations of the design business. When we first walked into the Grayton House, we immediately saw evidence of water and moisture on the ceilings, walls, floorboards, tiled showers, and porches. A further examination revealed failed shower pans and water intrusion deep into the porch and deck support structures. Furthermore, the drip edge flashing originally installed on the windows and doors was too short to prevent water intrusion into the home and was almost completely rusted away. All in all, the house was in dire condition: collapse was a distinct possibility. We needed to act fast to save the Grayton House from complete ruin.
Once our team established a plan with the homeowners, insurance adjusters, and engineers, the house was stripped down to its bare bones, exposing the severity of the damage. Some areas of the house were dried out and salvaged with the use of air movers, air scrubbers, and dehumidifiers. Large areas were past the point of remediation and interior and exterior components of the home were severely damaged. In these cases, we removed the affected sections of sheetrock, insulation, flooring, cabinetry, and framing materials. We completely replaced them. To remove all concerns of mold we replaced the three heating and cooling units and all of the duct work. As an added measure, we installed a whole house dehumidifier.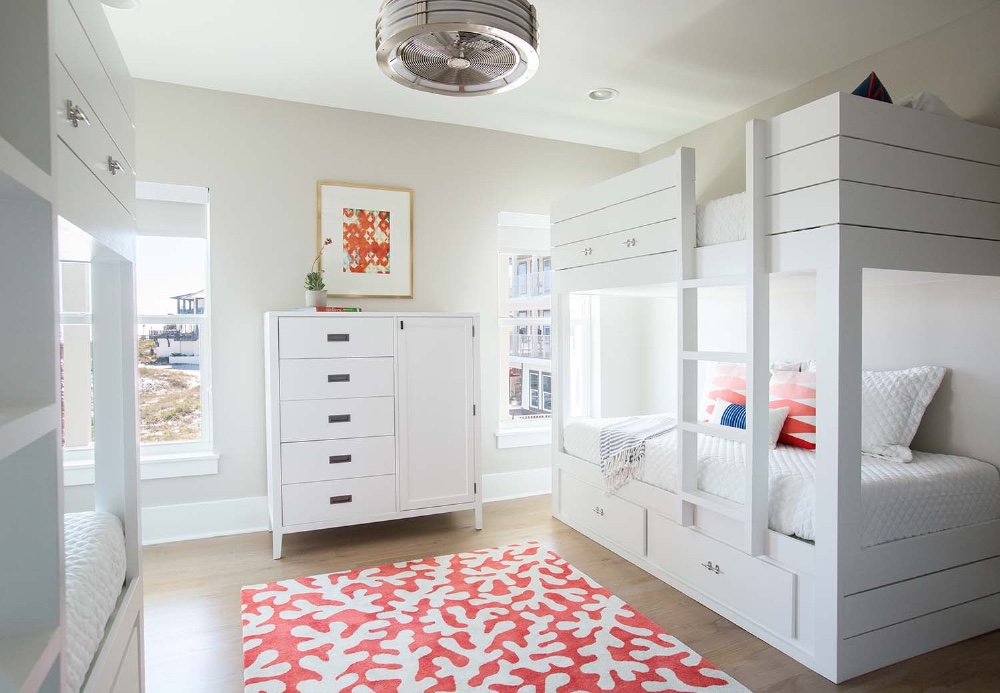 When inspecting a home, it's important to know the warning signs. It can take on different textures, colors, and even smells, depending on the location of the damage. For example, ceiling water damage is typically visible in the form of puckered plaster and discoloration; but water damage in a basement elicits a musty odor that must be sniffed out, not seen. Areas of standing or pooling water are dead giveaways, but one must look closely to detect them in dark places. These pools can occur from a leaking roof, old drainage pipes, or malfunctioning appliances like washers, toilets, and water heaters.
Another type of discoloration to look for is rust, which the Grayton House had plenty of. It's important to inspect water heaters, bathroom fixtures, exposed metal flashing, and the pipes under sinks. While rust isn't necessarily an indicator of water damage, it can pinpoint future problematic areas within a house. Flooring can also show discoloration like walls and ceilings do, but the main sign of water damage in floors is detected by texture. As water seeps under floorboards, warping- caused by changes in humidity and temperature- result in small gaps underneath the floorboards, and causes the edges of the boards to curl. Sagging and sinking are also signs to look out for. If you notice soft spots in hardwood floors, chances are, you're looking at rotting wood.Don't be too quick to diagnose gaps in tile grout or mildew in the grout joint as a simple need for caulk or additional grout. The small signs presenting themselves in your tiled showers and floors can be signs of a much larger problem.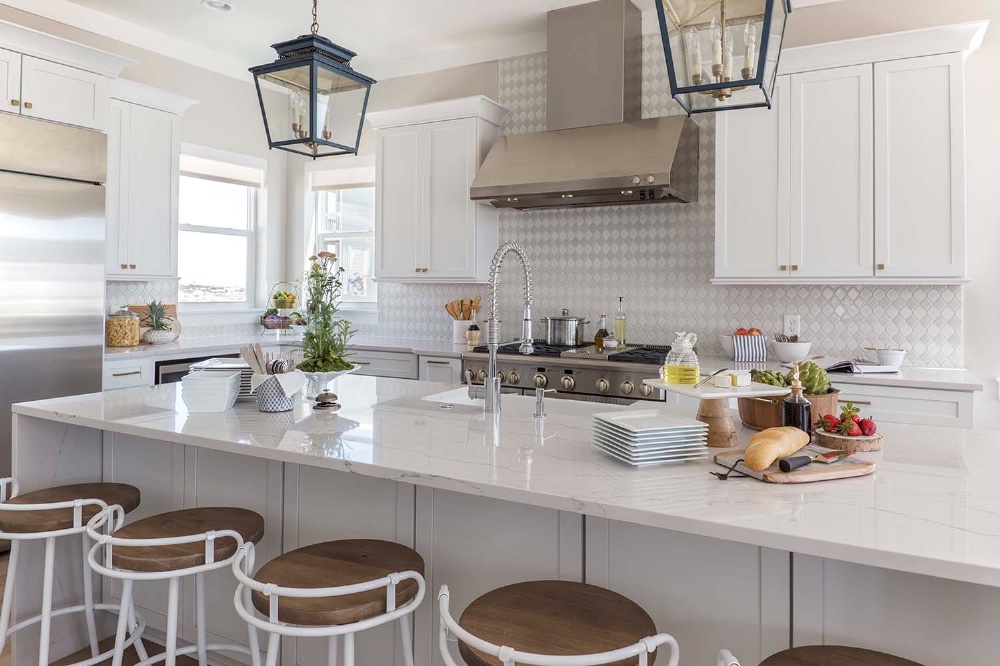 It's not enough to rely on the recommendation of a property inspector. And even the largest property management company can miss the signs of water intrusion if not properly trained. All the water issues we identified were created during the original construction of the home. Finding a general contractor experienced in assessing a home for potential water intrusion or damage is a sound decision when building a new home and when looking for an existing property.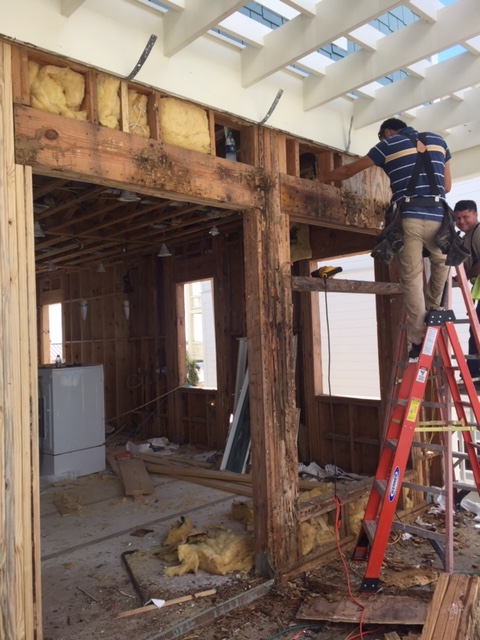 The Grayton House turned out to be a success story in the end. After months of meticulous selections of materials, finishes, fixtures, and furnishings, it became a true masterpiece. The beating the Grayton House had received from water's ruthless hand was completely preventable. Now fully restored, the beautiful views of the Gulf of Mexico offered by its expansive porches are the center of attention for all who enjoy time in this home.
For over 20 years, I have strived to hone my design and project management skills to consistently deliver an unparalleled customer experience. I approach every project with form, fit, and function in mind. From single room designs, to whole house renovations, and concept through completion new construction I work closely with my clients to balance cost, quality, and service. I believe in timely, frequent communication with my clients. Working with homeowners, business owners, and real estate investors my goal is to exceed the expectations of every client. www.30adesigngroup.com