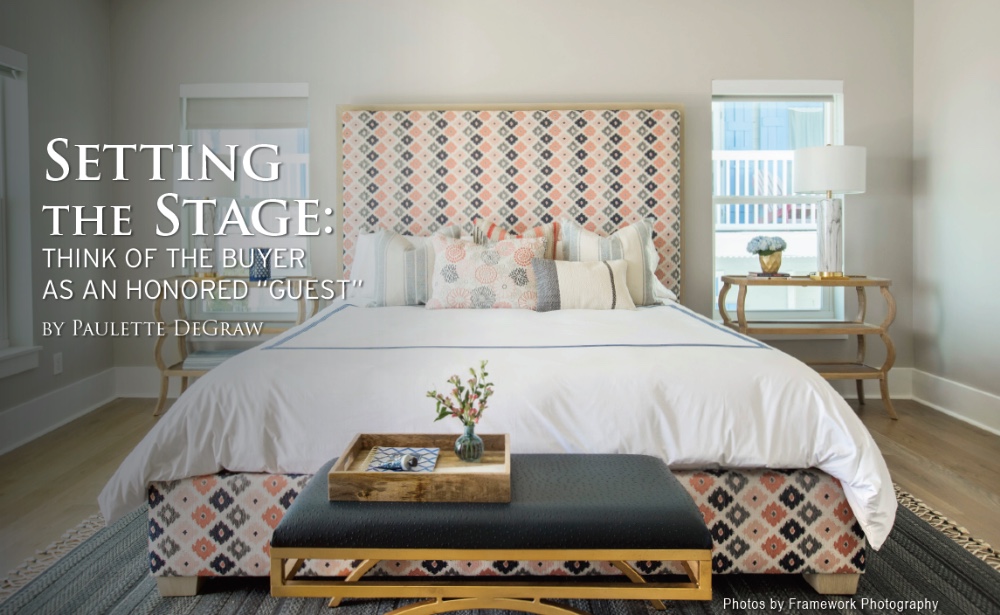 Setting the stage – think of the buyer as an honored "Guest"
Article featured in Coastal Luxury Magazine
In order to switch the "for sale" sign to "sold" you're going to have to think tactically. 
Erin Oden, owner of Coastal Luxury says, "If a home is older, or simply outdated, remodeling and staging both the exteriors and interiors before introducing the residence to the market brings the residence into level market competition." In other words, the trick between a quick sell and an arduous and frustrating experience lies in even the smallest details.
The first stop in the seller's journey lies in imagining a future buyer as an honored "guest". When you create a narrative around your home, your guest can picture what life will be like inside the house. In order to make the plot convincing, see that the necessary changes are made to keep the story believable.
If you think a young family would fit right in, add a bunk bed so kids will know they'll have a space of their own.  In this coastal cottage, a floating wall and bunk beds were added to create two unique spaces. This remained an important feature for both the children and parents looking at the home: a floating wall is sure to reduce future bickering between siblings.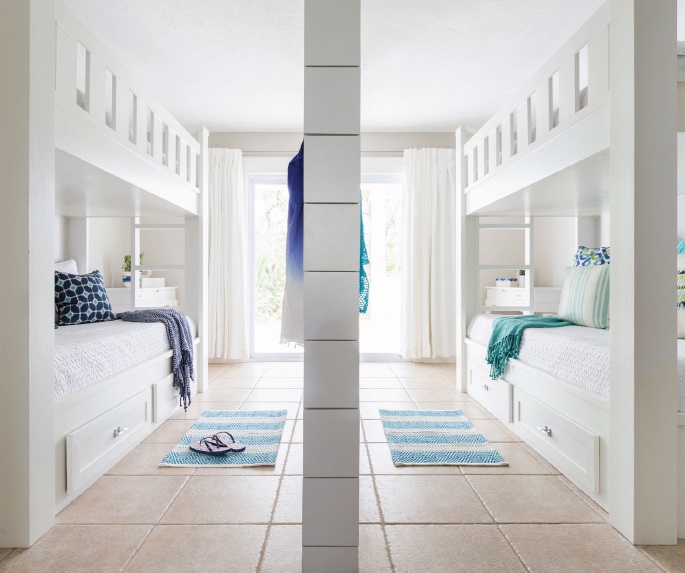 When tidying up your home, consider exchanging old for new. Removing your family's sentimental ornaments from the house gives a guest the freedom to imagine his or her own story unfolding. By no means do you have to strip your home of every personal touch, but removing the knick knacks accumulated from the family trip you took five years ago and the singing bass grandpa passed down from the den, can rejuvenate a home. Choose unique and memorable designs to hang on plain walls, and opt for simplicity. 
In this cozy reading nook, an interesting canvas compliments the calm tones nearby. In order to appeal to as wide an audience as possible, neutralize a room. Introducing color in strategic places keeps your home from feeling lifeless.  Your guest might prefer bold colors; but if you leave a room light and airy, it's much easier  for them to imagine the possibilities.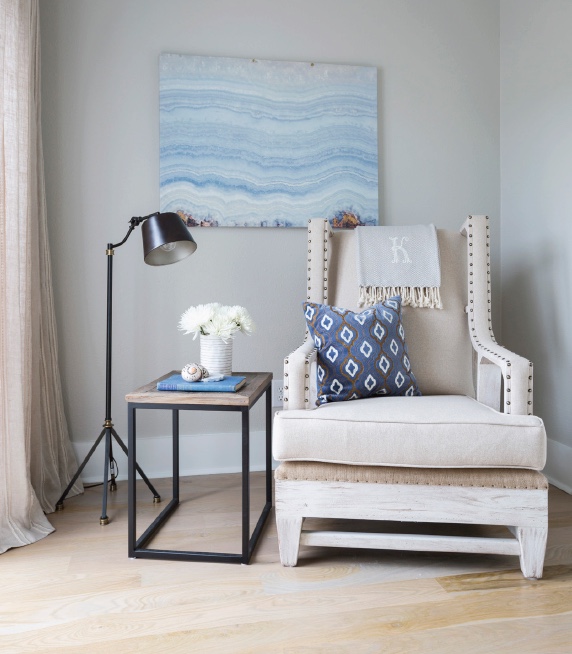 When in doubt, keep it fresh! This key category is not only accessible, but low-cost. Flowers are appropriate in any room and lush green plants are always in style. Don't forget to show your guests that your home is ready to entertain by setting the table or the kitchen island for a gathering of friends and family.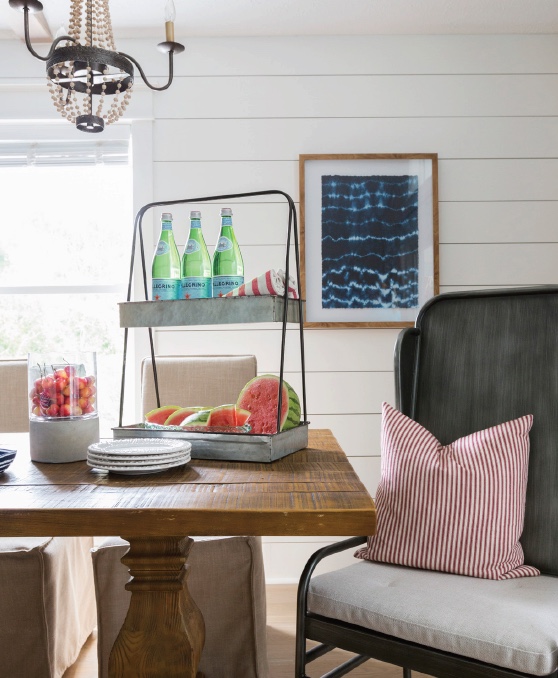 When everything is in order with the rest of the house, think about your guest's very first impression when they walk through the front door. This is where the story of your home begins.  Grab their attention and keep it as they stroll room to room.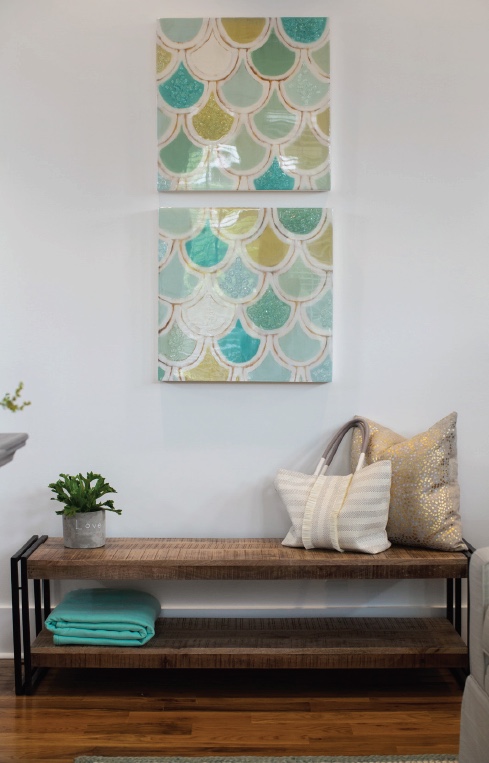 Choosing your outdoor furnishings carefully can score you immediate points. Here, the old weathered porch furniture was exchanged for beautiful and affordable bamboo pieces. Guests were able to experience the charm of the home before they entered inside.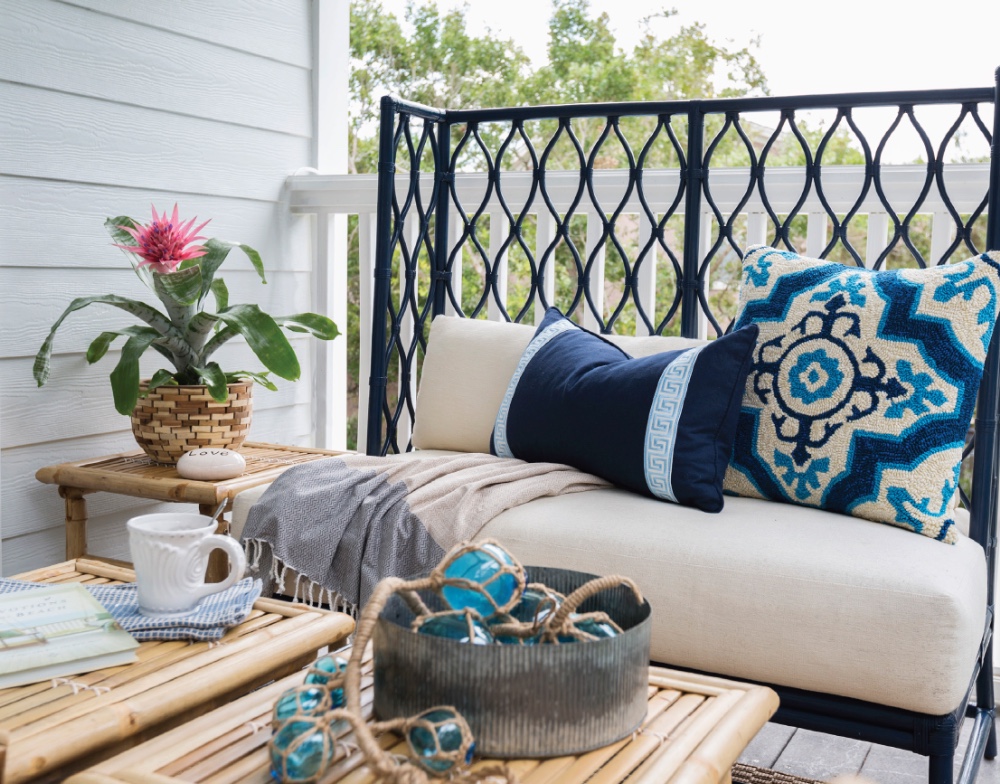 Finally, when you take great shots to market your home, every picture can be worth a thousand dollars. Hiring a professional to design your home to sell combined with an experienced real estate photographer can help you greatly. You only have one chance to make the right first impression.  Today, that first impression is almost always a photograph on a computer screen.  You owe it to yourself and your agent to make those photos count.
With an experienced designer, quality photos, and a knowledgeable real estate agent you can expect fewer days on the market and more dollars at the closing table.